Vote for your favorite 2020 King Tide entries until December 2, 2020 @ 12pm EST
Click below to browse the gallery of photos and videos submitted in each Contest Category: Atlantic, Great Bay, and Creative.
Vote for as many photos/videos that you think best showcase the vulnerability or resilience of people, places, and things impacted by high tide flooding in New Hampshire's coastal communities. Limit one vote per entry per e-mail address.
The photos/videos that receive the most votes in each category win!
Winners will be announced on December 4, 2020 and will receive a $100 gift card to a local restaurant of their choice. 
Don't see your photo/video in any of the above galleries? Please e-mail us so we can track down your entry.
 Only votes submitted in accordance with the Official Contest Rules during the Voting Period (November 18 – December 2, 2020) will be considered. Voters using multiple email addresses will be immediately discounted and disqualified. Voting using assistance of any kind including mechanical, form filling or other software or robotic or automated assistance with regard to all or any part of the voting process is not allowed, and these votes will be disqualified. Any evidence of vote buying, rigging, or exchanging will disqualify the entry. Any individual who, at the sole determination of the Sponsor, abuses the voting process in any way will be disqualified from voting.
The Coastal Adaptation Workgroup's King Tide Contest helps raise awareness about New Hampshire's rising sea levels.
Head to the shore on November 14-17, 2020 to photograph or take a short video of the extreme high tides.
Submit a total of 3 photos/videos across the three contest categories: Atlantic, Great Bay, or Creative.
The best part? YOU ARE THE JUDGE.
Vote for your favorite entries anytime between November 18 – December 2, 2020. The entries that receive the most votes in each of the Contest Categories win! Winners will receive a gift card to support a local restaurant of their choosing.
Oh…and did we mention: ANYONE can enter and it's totally FREE!
SUBMISSION PERIOD
Begins: Nov. 14, 2020 @ 12:00am ET
Ends: Nov. 17, 2020 @ 11:59pm ET
Check your local tide chart for high tide times
PUBLIC VOTING
Begins: Nov. 18, 2020 @ 12:00pm ET
Ends: Dec. 2, 2020 @ 12:00pm ET
WINNERS ANNOUNCEMENT
No later than Dec. 4, 2020
During the Contest Submission Period, entrants are invited to document the high tide along New Hampshire's tidal shoreline.
Entrants may submit a total of three (3) entries in the following categories: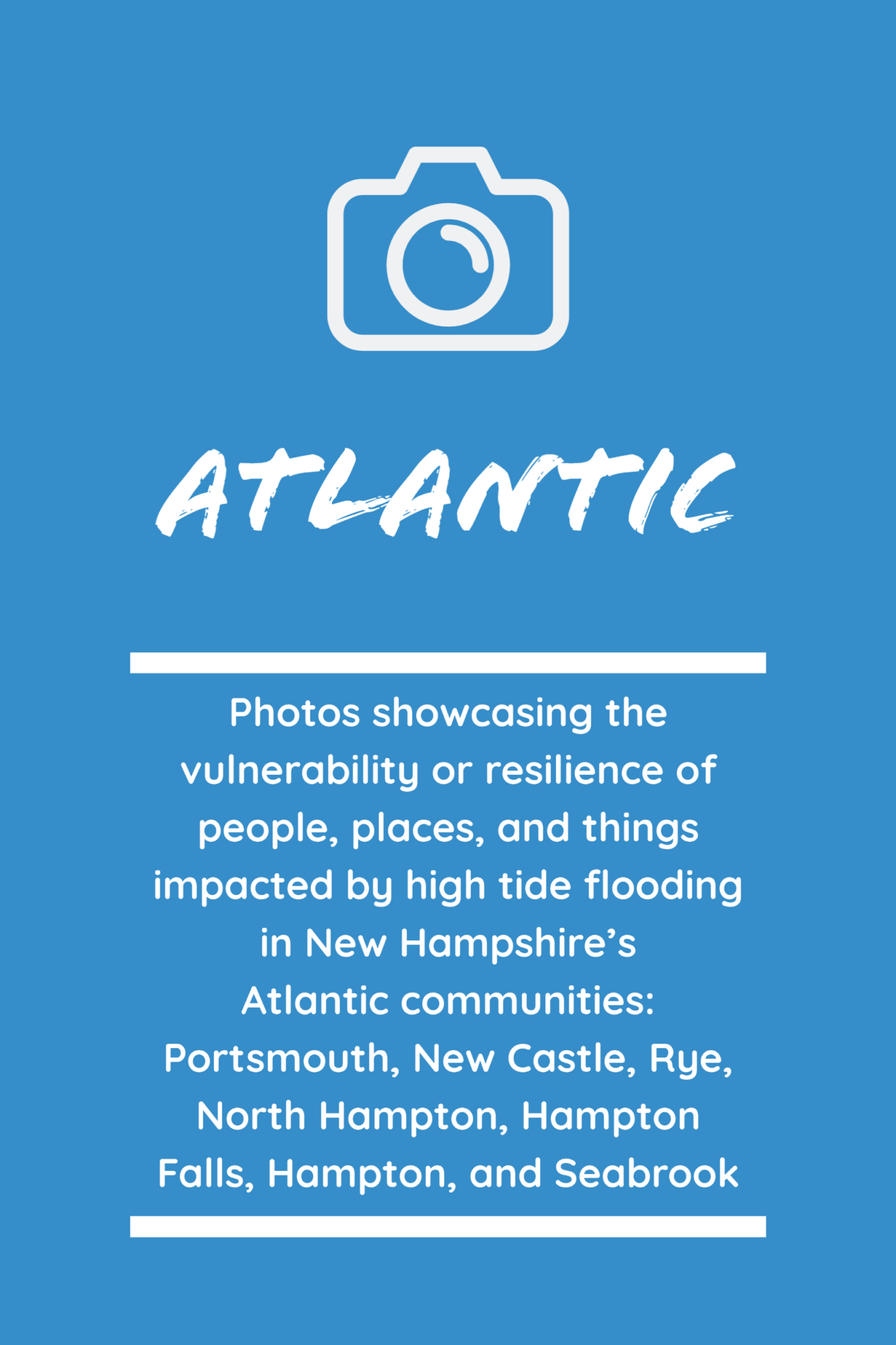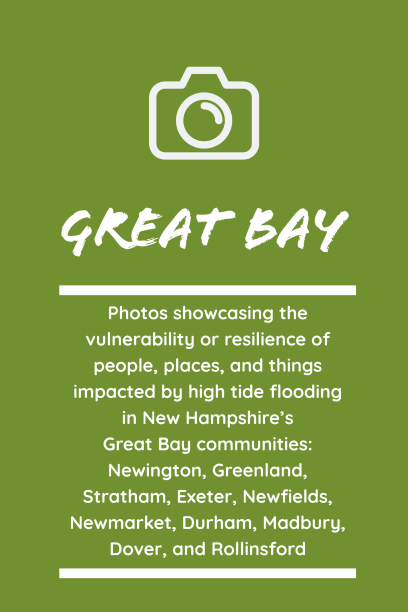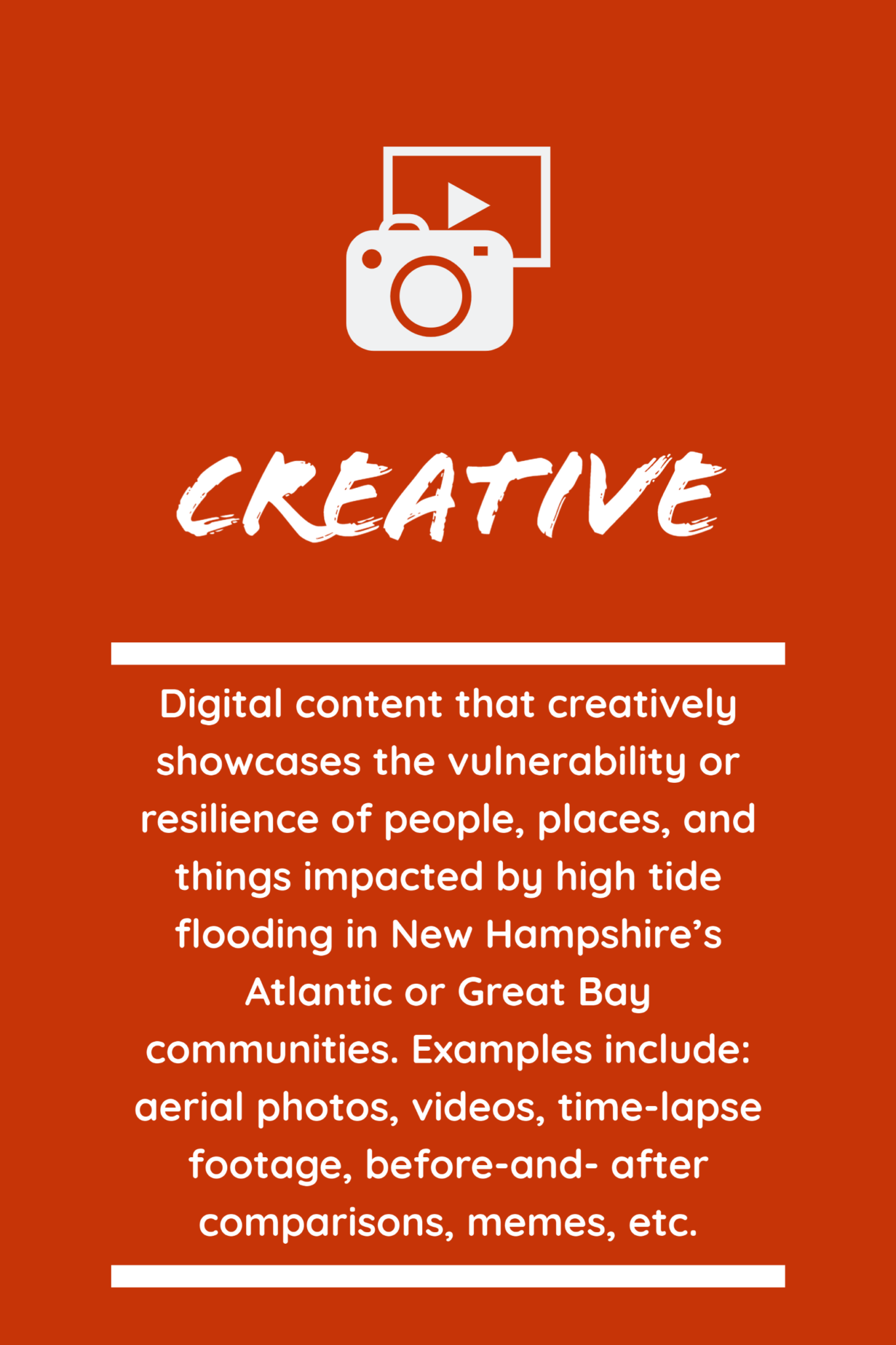 All videos and aerial/drone photography will not be accepted in the Atlantic or Great Bay categories and should be entered into the Creative category. Each entry may only be uploaded once and submitted to a single category. All duplicate entries will be disqualified.
WHERE TO TAKE PHOTOS
Not sure where to go to take the winning photo or video?
We made you a map with over 30 publicly accessible locations to choose from. Explore locations with the blue icons to enter the Atlantic category, the green icons to enter the Great Bay category, or any of these locations to enter the new Creative category! 
All entries submitted via Facebook, Instagram, or Twitter must include: 
(1) Caption; (2) Location of High Tide; and (3) Hashtags required to enter the category of your choice:
Atlantic: #kingtidenh2020 AND #atlantic
Great Bay: #kingtidenh2020 AND #greatbay
Creative: #kingtidenh2020 AND #creative
ONLINE FORM
Entrants may also submit entries via the online entry form. One form required per entry.