By: Nathalie Morison
After reviewing 128 incredible submissions, we're so excited to announce the winners of the #KingTideNH2017 Photo Contest! Now an annual event, the contest aims to raise awareness of New Hampshire's rising tides.
The #KingTideNH2017 judges' panel included CAW Co-Chair, Sherry Godlewski of the Department of Environmental Services (NHDES);  Dan Innis, New Hampshire State Senator, District 24; Kimberly Haas, Union Leader Correspondent; Eric Gendron of Eric Gendron Photography; Maggie Sutherland of Seacoast Lately; and CAW member, Abigail Lyon of the Piscataqua Region Estuaries Partnership (PREP).
The quality of submitted entries was impressive this year, making it extremely difficult for the judges to pick only three winners. Following a three-way tie breaker for 3rd  place, contest organizers decided to award two honorable mentions in addition to the 1st, 2nd, and 3rd place and People's Choice winners.
Drum roll please…
1st Place: 
"We're on the Road to Nowhere" | By: Peter DiGeronimo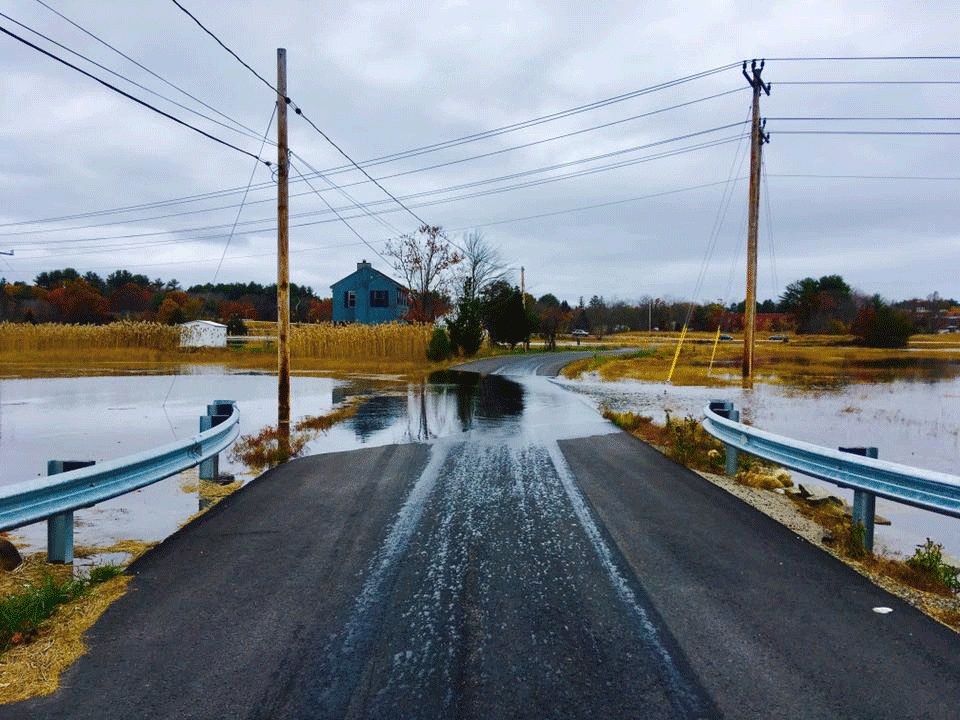 Judge Reaction: "This photo shows something potentially impassable…you can imagine a vehicle approaching this road and having to navigate the rising tide."
– Abigail Lyon, PREP
2nd Place & People's Choice:
"Standing in Silence" | By: Jennifer Dubois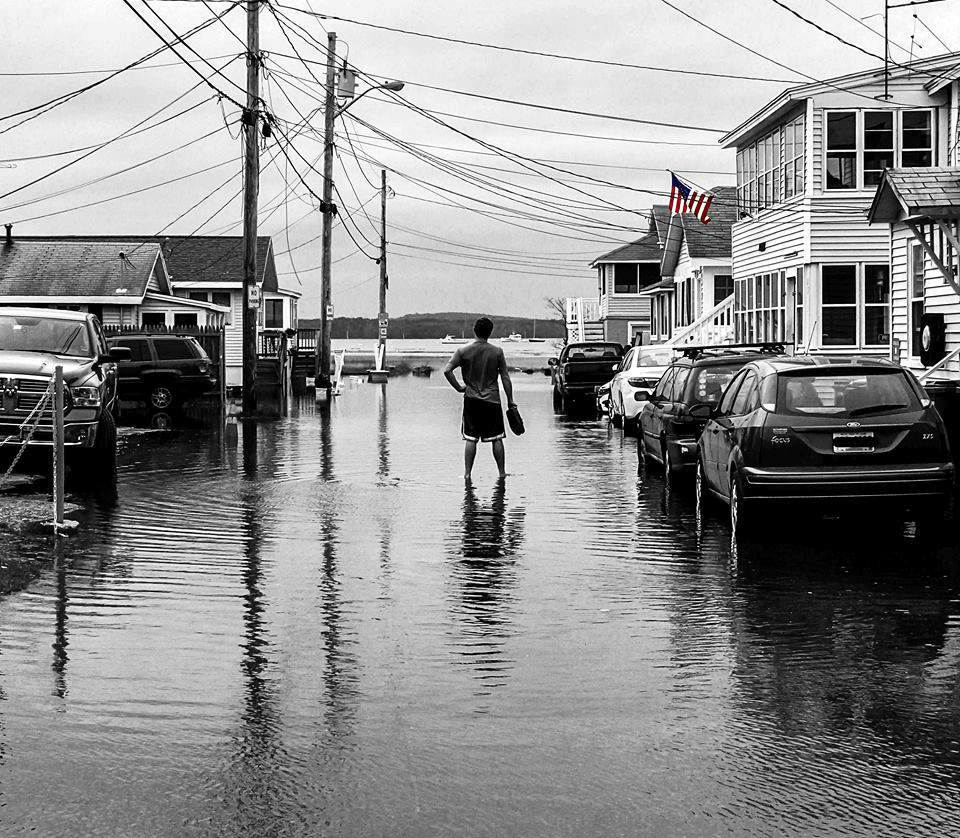 Judge Reaction: "This photo has great visual impact…the person standing surrounded by water makes flooding personal."
– Eric Gendron, Eric Gendron Photography
3rd Place:
"King Tide Turned This Slide into a Water Slide" | By: Jo-Ann Theriault
"This photo does a great job showing how nature is slowly encroaching — and I hate to say encroaching because we are the encroachers — upon the very places we go to enjoy nature and love to play."
– Kimberly Haas, Union Leader Correspondent
Honorable Mention: 
"Connected by a Thread" | By: Will Brown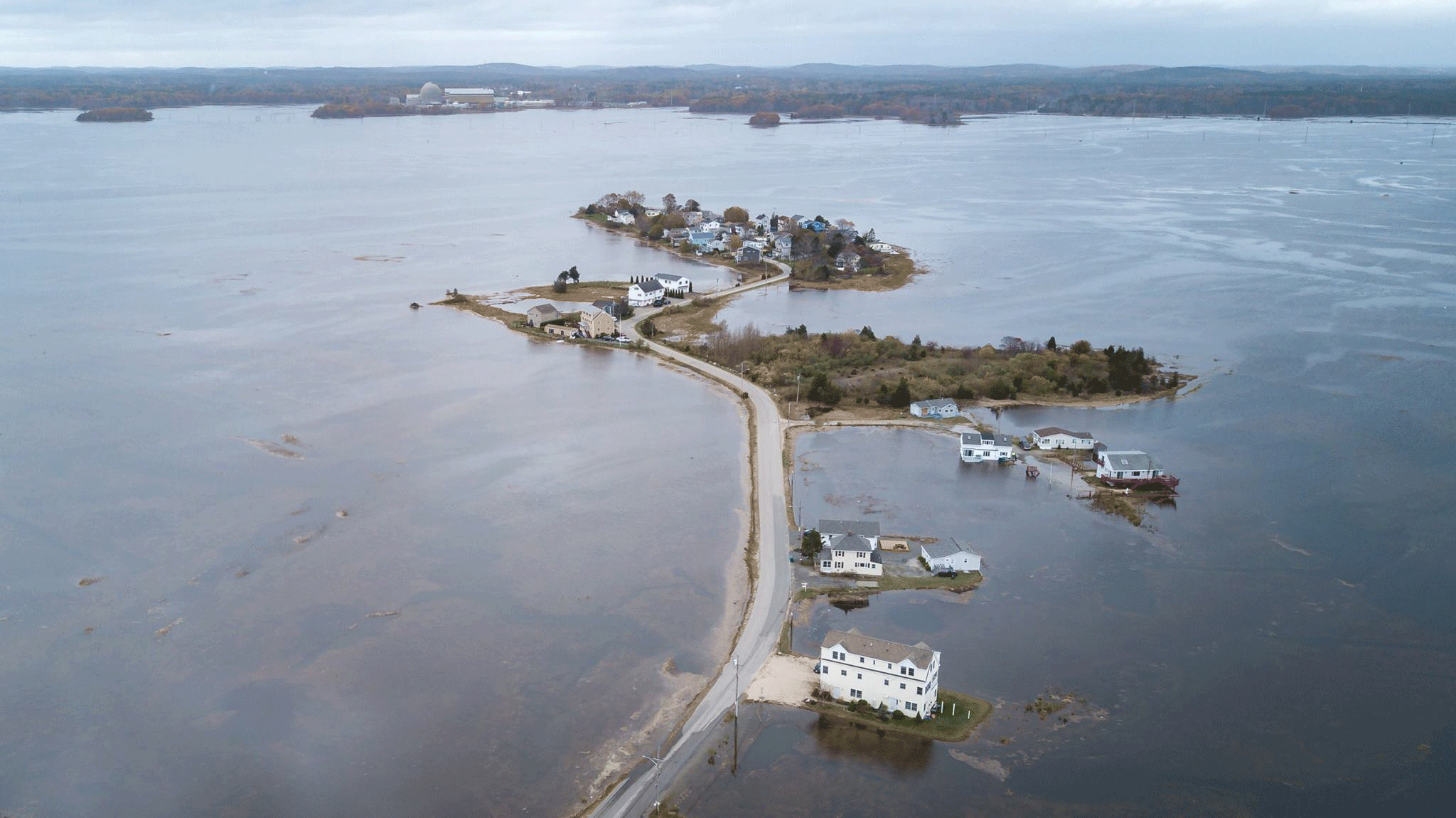 Judge Reaction: "I had visceral reaction to this photo…it's shocking to see and definitely a conversation starter."
– Abigail Lyon, PREP
Honorable Mention: 
"King High Tide – Island House" | By: Patricia Lane Evans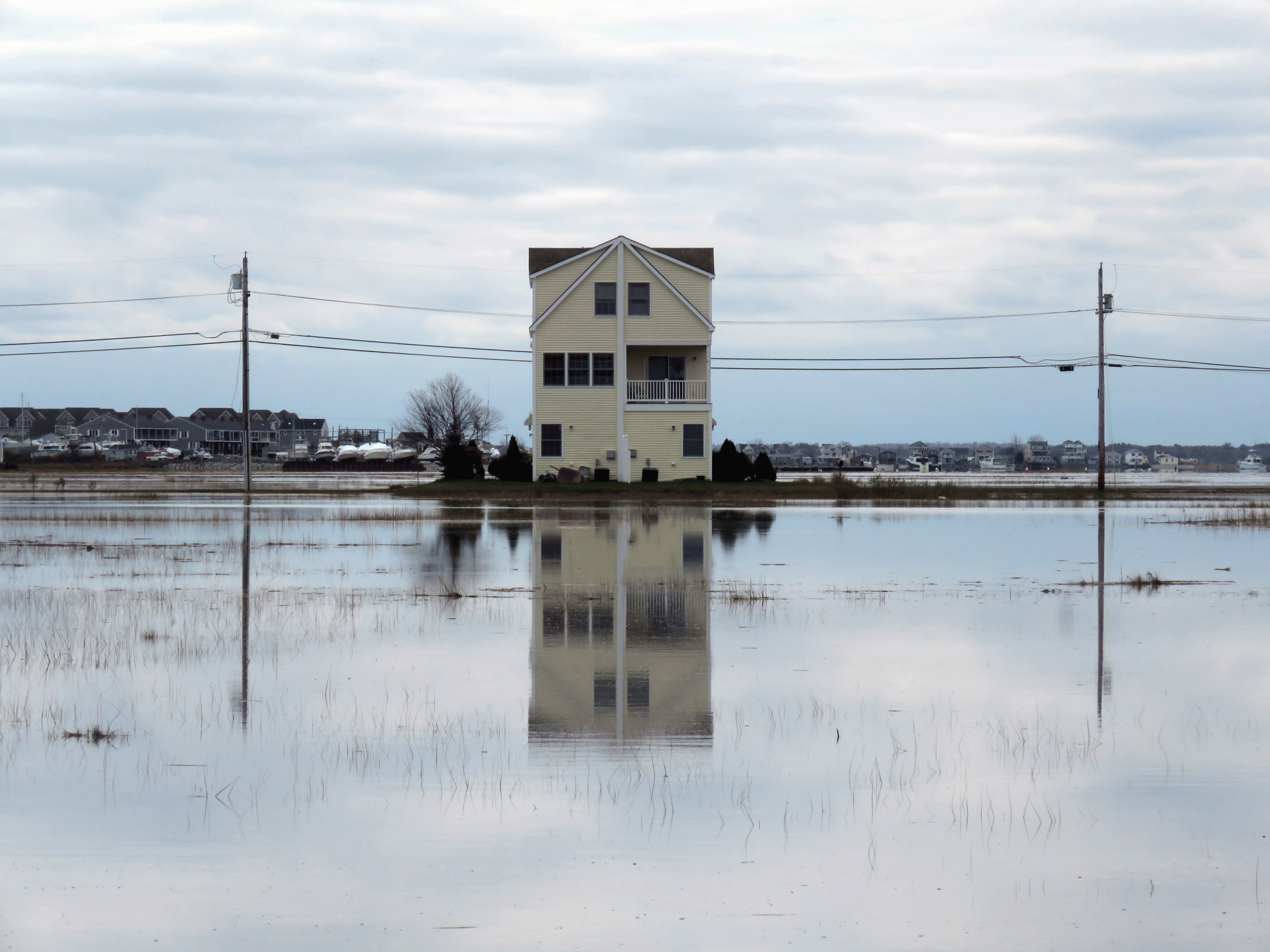 "The symmetry and reflection of this photo is clean from a composition perspective and stood out to me."
– Eric Gendron, Eric Gendron Photography
To view all contest submissions, click here.
Judges met last Wednesday at the Seacoast Science Center to review finalist photos and select the grand prize winners based on two criteria: 1) effectiveness at conveying the high tide and associated flooding vulnerability, and 2) photographic composition. The People's Choice prize was awarded to the photo that received the most Likes on Facebook during the People's Choice voting period.
Contest winners have been notified and congratulated. They will be able to choose from the following fantastic list of fantastic prizes that generously donated by seacoast area organizations and businesses.
An exhibit of select contest photos – donated by Live Free Print & Frame – will be on display at several seacoast area locations throughout the remainder of 2017 and into the New Year. Confirmed exhibit dates and locations include:
November 27 – December 8, 2017: 3S Art Space in Portsmouth, NH
December 11 –22, 2018: Seacoast Science Center in Rye, NH
January 8 – 19, 2018: White Heron Café in Portsmouth, NH
March 5 – 16, 2018: Seabrook Library
March 19 – 30, 2018: Durham Public Library
April 2 –13, 2018: Exeter Public Library
April 16 –27, 2018: Rye Public Library
April 30 – May 11, 2018: North Hampton Public Library 
June 1 – June 29, 2018: Hampton Town Hall
October 1 – October 31, 2018: Dover Public Library
Thank you to all who participated in the #KingTideNH2017 contest and helped make it a tremendous success!
Stay tuned for our next contest coming soon in 2018!
To learn more about CAW and stay up to date with CAW events and stories, visit our website; sign up to receive our Crow's Nest newsletter; and/or follow @nhcaw on Twitter and @nhcoastaladaptation on Facebook and Instagram.
Please direct all questions to Nathalie Morison, Coastal Resilience Specialist with the NHDES Coastal Program at nathalie.morison@des.nh.gov, or at (603) 559-0029.
In case you missed it, you can learn more about the #KingTideNH2017 contest here.
Thank you to our #KingTideNH2017 prize donors!