Our Maine & New Hampshire Beaches & Coast
Who
Beach and coastal community members and stakeholders
When
Friday, July 14, 2017, 8:30 am – 4:00 pm
Where
Wells High School, Wells, Maine
Registration
Please register by July 5, 2017.
$50 registration fee.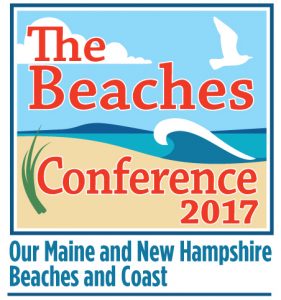 The date is set for the Beaches Conference 2017 and the focus has expanded to include New Hampshire! Please join us and register now. The Beaches Conference works to provide continuing opportunities for exchange of the most current information among beach and coastal stakeholders with diverse interests, and to present the findings from Maine and New Hampshire beach monitoring programs. View the preliminary program.
2017 Beaches Conference SPONSORS
Waves
Walsh Engineering
Umbrellas
Wells National Estuarine Research Reserve & Laudholm Trust
Maine Coastal Program
Maine Sea Grant
Great Bay National Estuarine Research Reserve & Stewards
Kennebunk Savings
PREP
Curtis Thaxter
New Hampshire Coastal Program
New Hampshire Sea Grant
RAI
Maine Boats, Homes & Harbors
Maine DEP
Maine Geological Survey
Sand
Southern Maine Regional Planning Commission
Maine Beaches Association
NH League of Conservations Voters