Our Maine and New Hampshire Beaches and Coast
| | |
| --- | --- |
| What is it? | The Beaches Conference works to provide continuing opportunities for exchange of the most current information among beach and coastal stakeholders with diverse interests, and to present the findings from Maine and New Hampshire beach monitoring programs. |
| Who should submit? | If you care about beaches and other vulnerable coastlines, consider this a personal invitation to submit a proposal for a presentation or exhibit. To be more specific, we invite proposals from: Recreational beach users • Beach monitors • Coastal property owners • Artists • Commercial/business owners • K – 16 Students and Teachers • Nonprofit and Community organizations • Federal, State, Local Government officials, staff, boards • Environmental interest groups • Real estate professionals and developers • Attorneys • Consultants • Tourism industry representatives • Scientists/researchers • Commercial and recreational ocean harvesters • Planners • Seasonal residents and visitors • and all others who care about beaches and coasts |
| Submit by | Friday, December 14, 2018  |
| When is the Conference? | June 13-14, 2019 at the Kittery Community Center | Registration info coming in 2019 |
| Questions? |  Kristen Grant  | kngrant@maine.edu |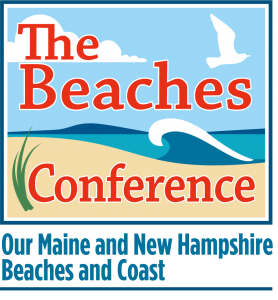 Join us in celebrating our beaches and coast throughout the year!
The Beaches Conference works to provide continuing opportunities for exchange of the most current information among beach and coastal stakeholders with diverse interests in order to
facilitate informed decision-making. We invite you to join us in celebrating beach monitoring
and stewardship, building strong partnerships, and taking informed action on coastal issues.
This invitation to submit proposals is intended to promote the equitable inclusion of diverse stakeholder interests among our speakers and exhibitors, the conference steering committee invites you to propose a presentation, field trip, and/or exhibit your work, ideas, or art related to beaches and the coast.
If you care about beaches and other vulnerable coastlines, consider this a personal invitation to submit a proposal for a presentation or exhibit. To be more specific, we invite proposals from: Recreational beach users • Beach monitors • Coastal property owners • Artists • Commercial/business owners • K – 16 Students and Teachers • Nonprofit and Community organizations • Federal, State, Local Government officials, staff, boards • Environmental interest groups • Real estate professionals and developers • Attorneys • Consultants • Tourism industry representatives • Scientists/researchers • Commercial and recreational ocean harvesters • Planners • Seasonal
residents and visitors • and all others who care about beaches and coasts
Due date for your proposals
December 14, 2018. Enter proposal information to the online submission form at seagrant.umaine.edu/extension/beaches-conference, or fill out and send this document via email to Kristen Grant, Program Committee Chair at kngrant@maine.edu
Review of your proposals
Your proposal(s) will be reviewed by the conference steering committee and you will be notified by mid-February if your idea has been accepted. If accepted, the steering committee will ask that you inform us by mid-March if you will be joining us to present or exhibit.
Registration
All accepted presenters and exhibiters are expected to pay the reduced registration fee of $25. K – 16 students who are presenting and/or exhibiting are asked to pay the student registration fee of $10.