Pictured above: New Hampshire's 2019-2021 NOAA Coastal Management Fellow, Ben Sweeney (center), posing with co-supervisors, Abigail Lyon, Piscataqua Region Estuaries Partnership (Left) and Nathalie Morison, New Hampshire Department of Environmental Services Coastal Program (Right) at the NOAA Coastal Management Fellowship Matching Workshop in Charleston, SC. May 2019.
By: Ben Sweeney
I am thrilled to be back in my home state to work with the New Hampshire Department of Environmental Services Coastal Program (NHCP) and the Piscataqua Region Estuaries Partnership (PREP) as a NOAA Coastal Management Fellow for the next two years. Together with our project partners, we will be working to advance the understanding and use of alternative financing mechanisms for on-the-ground adaptation and resilience projects in coastal New Hampshire. Not only is New Hampshire the state I grew up in, but it is also where my educational and work experiences in the coastal zone began. As an undergraduate student at the University of New Hampshire studying Environmental Engineering, I gravitated toward the fields of oceanography and marine pollution where I found part-time jobs assisting professors with various research projects. For example, I was fortunate to assist Professor Tom Lippmann from the Center of Coastal and Ocean Mapping (CCOM) on field work activities ranging from sediment sampling to instrument deployment in Great Bay Estuary.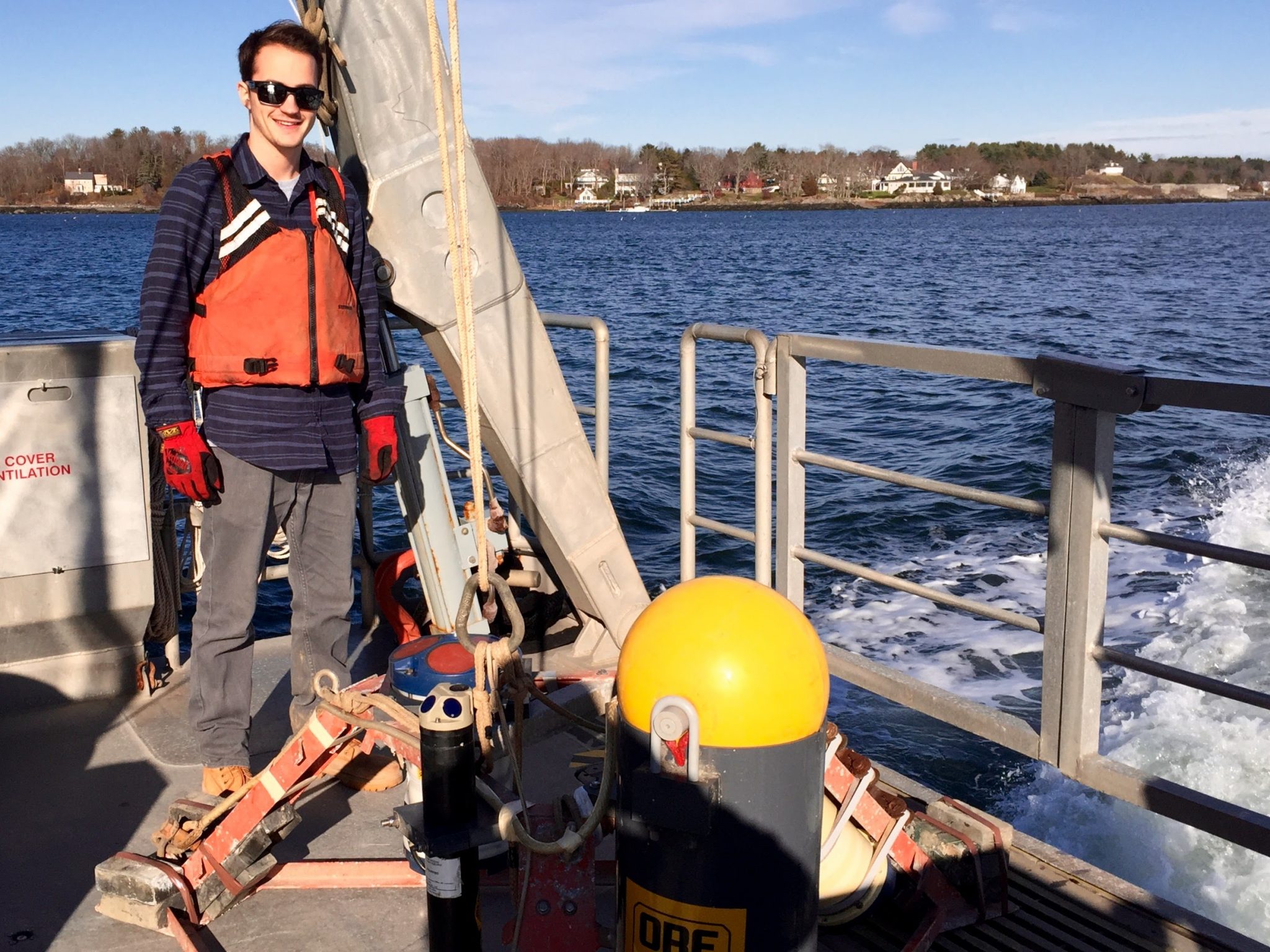 Pictured above: Ben as a sophomore at UNH aboard the R/V Gulf Challenger preparing to deploy an acoustic Doppler current profiler (ADCP) in the Piscataqua River while working as an undergraduate research assistant under Professor Tom Lippmann at the Center for Coastal and Ocean Mapping.
As I approached the end of my time at UNH, I had the opportunity to work with NHCP for my senior capstone project where I aided in development of a structural condition rating methodology for shoreline protection structures and analyzed how the existing seawalls, rip rap, and berms along the tidal waters of New Hampshire would cope with rising sea-levels. After this introduction to coastal management and learning about the risks that sea-level rise and extreme storm events pose to coastal communities, I was convinced that I had a passion for protecting the coast and knew that graduate school was in my future, but not right away. Before pursuing higher education, I worked as a consultant for Hoyle, Tanner & Associates where I provided stormwater, wastewater, and drinking water asset management services to communities throughout New Hampshire. Not content with working just in the engineering world, I enrolled in the University of Rhode Island's Marine Affairs Program to broaden my skills in the fields of policy, planning, and social sciences. At URI, my studies focused on climate change adaptation and resilience, culminating in a thesis project analyzing how engineers consider sea-level rise throughout the design of seaport and maritime infrastructure projects.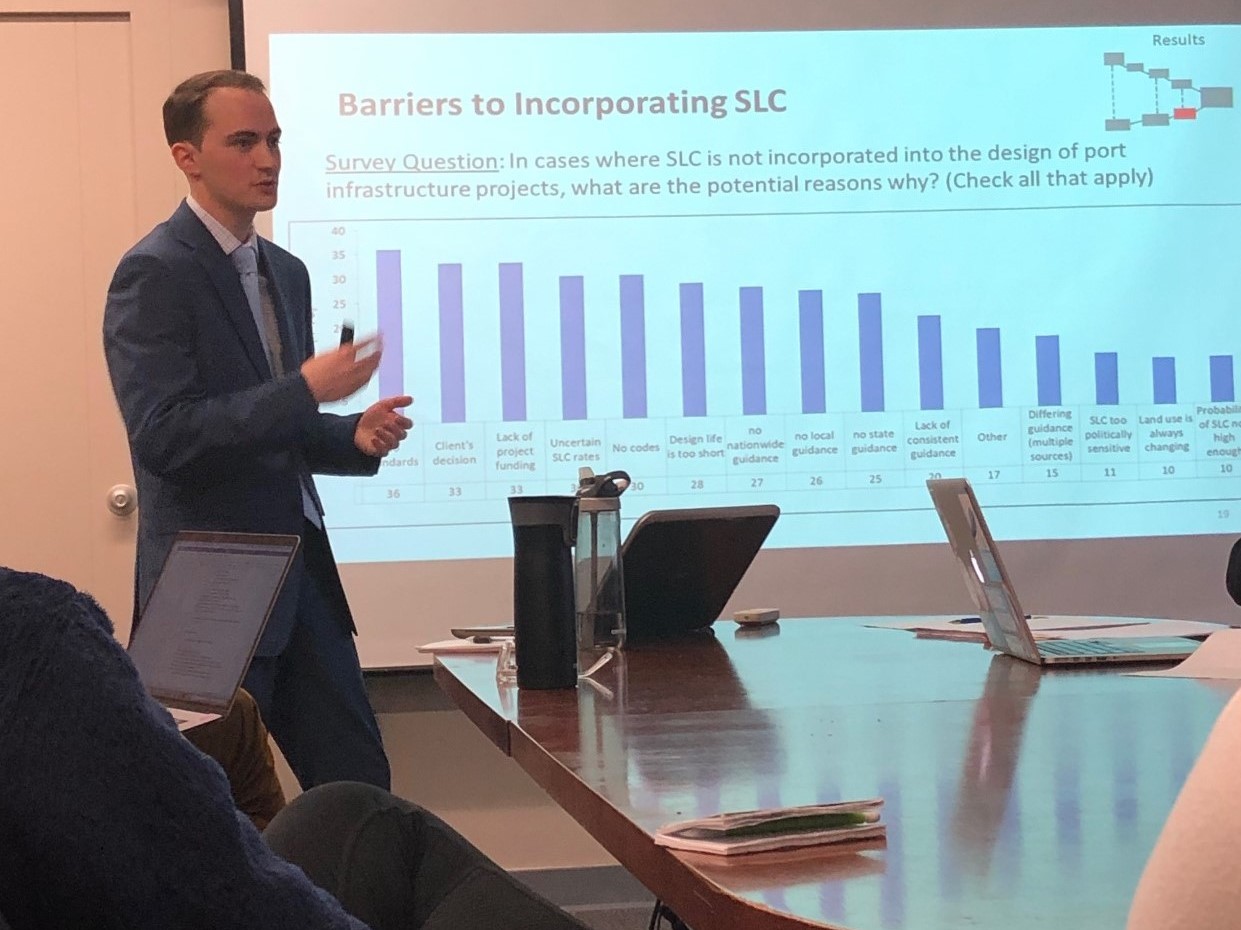 Pictured Above: Ben discusses what engineers perceive the be the the largest barriers to incorporating sea level change in the design of large-scale seaport infrastructure projects during his thesis defense.
Moving into my new role as a Coastal Management Fellow, I am excited to take the skills I developed as an engineer and apply them effectively in the world of coastal policy and planning. My fellowship project, Keeping New Hampshire's Coast Afloat, focuses on developing creative funding mechanisms and policies to support on-the-ground adaptation and resilience in the coastal communities. Recognizing the inadequacy of current funding mechanisms for stormwater management and resilience projects, as well as the need for coastal resilience policies that align with community needs, this project will have two main focuses: (1) leading the creation of a coordinated partnership to advance coastal community understanding and implementation of local stormwater and resilience fees, and (2) facilitating a collaborative process to investigate and recommend state and local coastal resilience policies.
These next two years of my fellowship are shaping up to be a fantastic experience and I'm hopeful that it will serve as a launching pad for my career. I'm fortunate to have such a diverse group of project partners and I'm looking forward to learning from them as my project develops. I'm especially eager to begin working closely with New Hampshire's coastal communities and helping them achieve their stormwater management and coastal resilience goals.