On Tuesday, May 1, 2018,
Sherry Godlewski
, co-chair of NHCAW received the
Regional Adaptation Leadership Award
(
RALA
) from the
American Society of Adaptation Professionals
(
ASAP
) at the 2018 Local Solutions: Eastern Climate Preparedness Conference held in Manchester, NH.
A trained environmental communicator and former college instructor, Sherry Godlewski is committed to providing science-based education and technical assistance to support New Hampshire state agencies and communities in becoming resourceful, ready, and resilient to the impacts of extreme weather and long term climate change.
"The ASAP Regional Adaptation Leadership Award (RALA) recognizes individuals who have distinguished themselves in the climate change adaptation field through exceptional leadership. It recognizes the fact that deliberate, proactive adaptation, preparedness and resilience-building is a change process, a deviation from business-as-usual, and a courageous act of doing something new and different. At its heart are individuals who make this change happen, sometimes with very few resources. The RALA recognizes distinguished adaptation leaders who approach their work in a strategic, sophisticated, well informed, inclusive, and effective manner. The RALA is awarded in a different region once every two years."
Sherry has worked tirelessly to build collaborative networks across the state, including the NH Coastal Adaptation Workgroup (NHCAW), Upper Valley Adaptation Workgroup (
UVAW
), and State Agency Environmental Resilience Group (SERG). Serving as the current Co-Chair to each of these groups, Sherry has informed and coordinated adaptation activities across the state – all in the spirit of building state and local capacities for resilience.
A stellar adaptation "CAW-league"
As NHCAW co-chair, Sherry has helped foster strategic partnerships by supporting the development of numerous competitive proposals and project implementation. Under Sherry's leadership, NHCAW partners and communities have worked together to secure over $6 million in grant funding to complete nearly 100 projects focused on building community capacity, research and assessment, and on the ground action.
Most recently, Sherry has been a key partner in the NH Setting SAIL project, which aims to support state agency and municipal implementation of the NH Coastal Risk and Hazards Commission (CRHC) recommendations through outreach and technical assistance. In this capacity, Sherry has been instrumental not only in the proposal development process, but also in relaying CRHC recommendations to state agency partners and coastal municipalities, as well as coordinating state agency audits of statutes and rules that may be affected by coastal flood risks.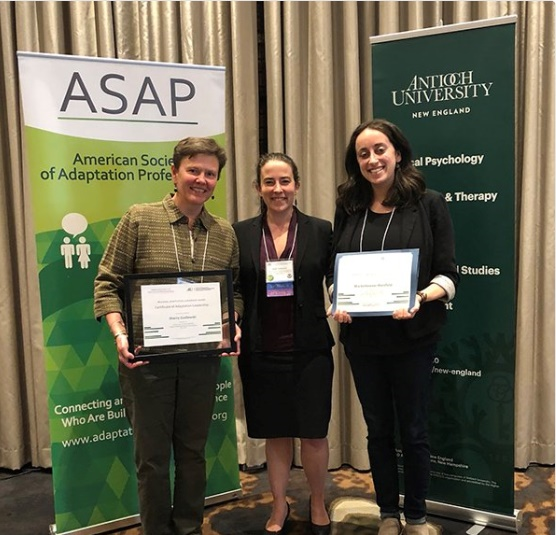 Over the past several years, and particularly in her role as Resilience and Adaptation Manager for the New Hampshire Department of Environmental Services, Sherry has developed a well-deserved reputation as a "go to" resource for local communities in climate resiliency and adaptation planning  efforts state and region wide. She capably represents NH in regional and national forums and has been a well-respected and highly visible leader in coastal and Upper Valley regional adaptation/resiliency. In short she is the consummate professional, and this award represents significant recognition for all her efforts.
Congratulations, Sherry! We are so proud.