2021 Climate Summit
Staying the Course, Moving Ahead: Progress Towards a More Resilient Coastal Watershed
Wednesday, May 26, 1pm-4pm & Thursday, May 27, 9am-12pm
REGISTRATION NOW OPEN
CAW's ninth (and first virtual!) Climate Summit will take place on the afternoon of Wednesday, May 26 (1pm-4pm), and the morning of Thursday, May 27 (9am-12pm).
Day 1 will feature a keynote address from A.R. Siders, assistant professor at the University of Delaware in the Disaster Research Center. From Siders' website: "Her research focuses on how and why communities decide when, where, and how to adapt to the effects of climate change and how these decisions and decision-making processes affect risk reduction and equity outcomes. Her current projects focus on adaptive capacity, managed retreat, and adaptation equity. Siders believes adaptation is opportunity and that we should be ambitious, if not audacious, in dreaming of and planning for a better future."
The remainder of Day 1 and Day 2 will consist of updates from local researchers, municipal representatives, and partners on the latest science about local climate impacts as well as recent adaptation projects in NH's coastal watershed communities. Day 2 will also include the announcement of the 2021 CAW Climate Champion Award.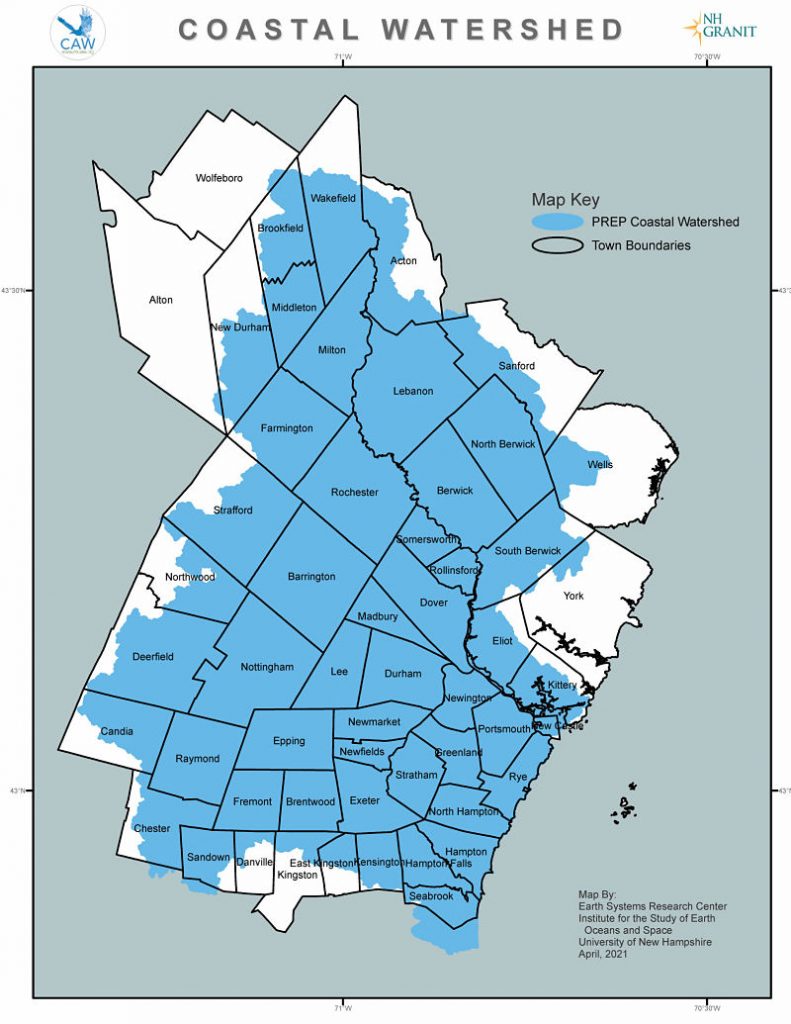 The target audience includes municipal staff and volunteers from across the coastal NH watershed, technical assistance providers, state and federal agency staff, researchers, and other interested community members and partners. From Wakefield to Seabrook and Candia to New Castle, we are all impacted by a changing climate. Some challenges are unique but many are shared, and the Summit offers an opportunity to learn and identify potential connections.
Participants will: 
Learn about recent and emerging research related to climate impacts and community resilience, including drought, declining snow cover, vernal windows, snow melt, and more.
Learn about coastal NH community actions to understand and adapt to climate impacts, focusing on transferrable examples, resources, and lessons learned. Featured projects include vulnerability assessments, plans, zoning updates, living shorelines, and others.
Be motivated to act on what they learned, such as by sharing information or resources with a colleague, using a resource in their work, or following up with a new connection. 
You will receive the Zoom link for the Climate Summit via email. Registration is free, but please register early as space is limited. The registration deadline is 5pm Friday, May 21. Questions about registration? Contact Lisa.Wise@unh.edu.
Note: Engineers in NH and ME can earn professional development hours by participating in the Summit. The event has also been submitted for possible CM credits for planners and CE credits for certified floodplain managers. If you will need a confirmation of attendance for the purposes of earning credits/PD hours, please reach out to Lisa.Wise@unh.edu.